ICE District Central Parkade Guide
Book Event Parking
Secure your Rogers Place Parking Space in Less Than 5 minutes.
Park Like a VIP
Parking like a VIP is now easy for you and your friends who are meeting up for great events at Rogers Place or the best that downtown Edmonton has to offer. You will find that the proximity to Rogers Place is unbeatable.
On a cold winter night in downtown Edmonton, the ICE District Central Parkade provides all the access and amenities that any VIP would come to expect. This awesome parking facility will allow you to put store your jacket in the trunk and not have to carry extra bulk into Rogers Place.
From the five parking levels and over 845 brightly lit stalls, you are a single elevator ride into the Stantec Tower lobby. From the lobby, you are 2-5 walking minutes into Ford Hall where all the action is waiting for you.
Parking rates are comparable to other facilities in the area, but those facilities don't have access like the Central Parkade has. Scroll down to view the parking rates and photo tour to help get acquainted with Edmonton's newest downtown parking facility in the heart of the ICE District.
Ways to Access Rogers Place Events
1:   Pedway Connect Via JW Marriott Hotel
Look for the P1 Level pedestrian door that will welcome you to Rogers Place. From this corridor, you can connect to the Pedway which will have you connected to the JW Marriott Hotel which leads to Rogers Place. From here, you can connect to other ICE District properties such as Stantec Tower and Edmonton Tower.
2:   Access Ford Hall From P1
You can access Ford Hall directly from the ICE District Central Parkade from the P1 parking level elevator. Scroll below to see our video walking tour that shows you the route to take.
Where is the ICE District Central Parkade located?
The ICE District's newest parkade is located directly under the ICE District Plaza, with direct access to Stantec Tower and just steps away from the Rogers Place via Ford Hall.
The ICE District Central Parkade entry is from 103 Avenue just west of 103 Street.
The parkade is operated and managed by Impark and has 792 underground, heated parking spots available for hourly, daily, and monthly parking.
Central Parkade access from 103 Avenue in downtown Edmonton.
Enter & Exit Central Parkade
Entrance & Exit: 103 Avenue, west of 103 Street Maximum Height Clearance:  6'10"
Video Tour – Look Inside Our Parkade
The following video tour will give you a great look inside of the new ICE District Central Parkade. The video is a short 2 minutes and 28 seconds, yet is highly informative of what you can expect from downtown Edmonton's newest parking facility.
Entertainment Options Close By
The ICE District Parkade provides connected access to Stantec Tower and the JW Marriott Hotel (Now Open!). This is your central parkade to be right under the action happening around Rogers Place Edmonton. From here, you are within 3 minutes walking distance to some amazing venues that will help you start and finish your event.
Popular local destinations in the area include:
Starbucks Coffee
Edmonton City Centre (Shopping)
JW Marriott Hotel
Edmonton's newest hotel has officially opened the doors to luxurious guest stays. You may want to consider the JW Marriott for your next trip into Edmonton for the Oilers hockey, concert or other great events that happen at Rogers Place. The ICE District Parkade is the best place to park when you want to visit the JW Marriott Hotel.
The JW Marriott offers some awesome new places that you will want to check out before or after your next event at Rogers Place Edmonton.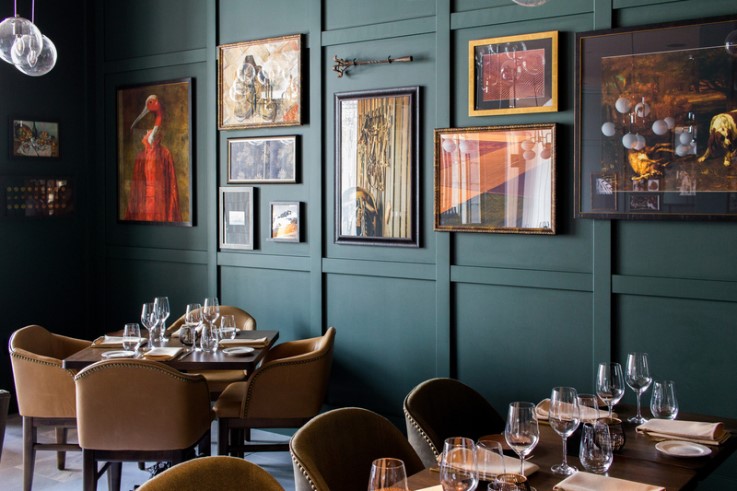 Source: Braven Restaurant in JW Marriott Edmonton Hotel
Parkade Features & Amenities
Did you know there are 792 spacious, over height heated parkade located right under Stantec Tower and the Rogers Place Pedestrian Portal on 103 Avenue?
Park in Edmonton's newest parkade for your next event outing. Your parking experience will make your next Oilers hockey game, concert or other event more memorable.
This parkade is part of Impark's vehicle assistance program so if you accidentally lock your keys in the vehicle or it runs out of fuel while parked here Parker Pete offers complimentary assistance. This parkade is also equipped with premium safety features. Find more details about its features below.
Safety
This parkade is equipped with emergency call stations, fire extinguishers, and AED Devices.
Premium Stalls
Do you drive a small vehicle? This parkade has designated stalls for small vehicles.
Windshield Wiping Stations
Safety is a top priority at Impark. Therefore, this parkade is equipped with complimentary windshield wiping stations to aid safe driving practices.
Pedway Connection
When complete Stantec Tower will be connected aboveground into Rogers Place through to the JW Marriott Hotel, situated on the north side of the tower and on the west side of 102 Street. Aboveground connections will also be available through to Edmonton Tower and Bell Tower, providing over 40km of indoor access to the rest of the downtown core system when ICE District.
(Source: http://icedistrictproperties.com/offices/stantec-tower/location-connectivity/)
Click on the map to see the City of Edmonton Pedway network.
Bike Storage & Repairs
For Tenants of Stantec Tower (no public bike parking at this time), if you are cycling to the Rogers Place area in downtown Edmonton, you will want to park your bike here. Should you need to make an adjustment to your bike, we got you covered with a stationary repair mount as shown below to get you on your way quickly.
Emergency Vehicle Service
Have you ever accidentally locked your keys in your vehicle? You'll be happy to learn than if you lock your keys in, get a flat tire, or your vehicle runs out of fuel, Impark has a complimentary vehicle assistance program to help. If you're parked at this location and need assistance please call Parker Pete toll-free at 1-877-771-PETE (7383) to assist you. Tell the operator that you are parked at Lot 56, the ICE District Central Parkade. All calls received will be coordinated by our staff – with service performed by an authorized third-party.
The Parker Pete program offers the following complimentary services to Impark customers:
Park and Walk from here to Your Destination
Here's a list of walking times from the ICE District Central Parkade to popular destinations in the area with the help of Google Maps. For the most updated walking directions we recommend you use your personal device.  On average, you can walk from here to many destinations in the area in one to five minutes at the Google suggested walking pace.
You may click on any of the maps following to see the larger view. When done, click on your browser back button to return here for more great parking guide help and directions.
Please note that each map shows exiting the parkade at street level and walking outdoors. On Event days, you can proceed directly to Rogers Place via the connection into Ford Hall from the P1 parking level.
Rogers Place:  2 Minutes
Braven (JW Marriott):3 Minutes
Kindred Food & Drink (JW Marriott):3 Minutes
Rostizado & Baiju Bar: 3 Minutes
Match Eatery & Public House: 4 Minutes
Video Tour – Park & Walk to Rogers Place
Navigating from your vehicle to Rogers Place Ford Hall or to the Edmonton Pedway network is easy and safe. Our video tours will help familiarize yourself of the walking route to get to work or your next event on time. Plus, you get a real sense as to the quality of the parking facility. Enjoy the video tours.
Video Tour – Walk from Ford Hall to P1 Level Parkade
How Much Is Parking?
Hourly & Daily Parking Rates
Parking Category
Parking Rate

(Includes GST)

Hourly

$6.00

Daily (Early bird)

(Enter before 9 am)

$18.00

Daily Maximum 

$26.00

Flat Evening & Weekend

Per Hour

6pm to Midnight

4pm to Midnight

3pm to Midnight

2pm to Midnight

$4.00

$10.00

$16.00

$24.00

$30.00

Event – Oil Kings

$15.00

Event – Concert

$23.00

Event – Oilers

$23.00
Monthly Parking Promotions
Parking Category
Parking Rate
Random 6am-6pm

(Mon-Fri)

* Special Promotion: 6th and 12th month free

$310.00

Random 24/7 Access – P3 Level Only

$335.00

 Reserved P1A 24/7 = $450.00

$450.00
6th and 12th month free (Random 6am to 6pm)
In the case of a discrepancy between the rates shown here and those displayed at the lot, the rates at the lot shall prevail.
Easily Pay for Parking
For your convenience, Pay Stations are located on level P1A, P1 and P2 of the parkade in each elevator lobby. Payment can be made with credit card at the Pay Stations or by using the hangTag application from your smartphone.
Impark suggests using hangTag to make your next parking experience effortless. You will get to your final destination by avoiding the lineups at the Pay Stations that can occur before busy events. See below for a description of hangTag and how to setup your account in under two minutes.
What  is hangTag?
hangTag™ is a new parking platform that allows you to pay for parking right from your smartphone in a few easy steps. Parking just got a little better.Available now at more than 900 locations across Canada(Source: https://hangtag.io/)
How to Setup hangTag in Under 2 Minutes
Play the video below for a step-by-step walkthrough of how you can setup your hangTag account in under two minutes. Ready? Press play to start the video.
Click below to get the right App for your phone:
Pay Station Photo Tour
Connect Centre P1A Pay Stations
Connect Centre P1 Pay Stations
Connect Centre P2 Pay Stations
Need Help Finding Your Parking Space?
Search
More Questions?
We are here to answer any further questions. E-mail us at info@edmontonparkingguide.ca or call (780) 420-1976